Reuniting Across Boundaries: Our Unforgettable First Team Retreat
We had our inaugural team retreat in May 2023. And looking back, the experience was nothing short of remarkable! For the first time, we gathered the entire team of 13 people in one location. This gathering went beyond work-related matters; it was about the team culture, getting to know each other, and building a great team.
As we transition towards being a remote-first company, we're placing heightened emphasis on these aspects, striving to create an environment where everyone feels valued, included, and inspired to succeed.
Our Workplace Evolution
Four years ago, our company began an exciting journey with a unique workplace story. In the early days, we didn't have a set office. Instead, we met in different coffee shops in St. Gallen. It was a fun start, but not a long-term solution. Our friend Ole, who owns Brüw pub in St. Gallen, helped us out. Since his pub was only open in the evening, we made a deal and started working there during the day. This gave us a stable place to work without having to look for a new spot every day.
In January 2020 we decided to rent our first office. But unfortunately, three months later the pandemic hit and we had to work from home. We never really finished setting up our office. When we could go back, only a few of us did. So, by the end of the year, we decided to give up our office and become a fully remote company. This move has also made us more inclusive and flexible, as we hired our first team member from outside the country.
Embracing Company Culture in a Remote-first World
With the transition to become a fully remote company, we also started to place greater focus on our company culture. In the past, socializing and bonding after work came naturally when we shared office space or lived close to one another. However, with colleagues spread across different countries, we recognized the need to foster connections deliberately.
To combat this geographical separation, we host monthly online team events and commit to in-person gatherings twice a year. We appreciate the value in cultivating personal relationships that extend beyond digital interactions. . Our goal is to create a company where everyone feels not only welcome and motivated but also empowered to voice their ideas.
Gathering the Team
The goal for our first team retreat was simple: get the team together and have fun. As we started planning, we decided to mix fun activities, team hangouts, and a workshop on company culture. This basic plan helped us start looking for the right place to stay.
Finding the Right Spot
None of us had planned something like this before, so we chose to stay within Switzerland, where we were familiar with how things work, yet away from our usual workspace. This brought us to Habkern, a beautiful village near Interlaken. The place we rented was nice, though it didn't check all our boxes completely. While technically accessible via public transport, it wasn't very convenient. However, since we came by car, this wasn't a big issue.
We thought cooking most of our meals would be a fun bonding experience (we all know the best parties happen in the kitchen ;) ), but we also wanted one dinner out for a carefree evening. With only eight meals in total, this worked out perfectly. We enjoyed a range of foods, from BBQ to fondue and wraps.
Finding the right location can be tough, and you might want to consider things like:
Space and capacity
A large table or area where everyone can gather
Location
Privacy and exclusivity
Kitchen facilities and dining options
Nearby activities
Budget
Reviews and recommendations
Given the unpredictable spring weather in Switzerland, it was challenging to plan outdoor activities. We made sure the lounge area was large enough for the whole team. Luckily, the weather turned out better than expected, and we thoroughly enjoyed our time outside.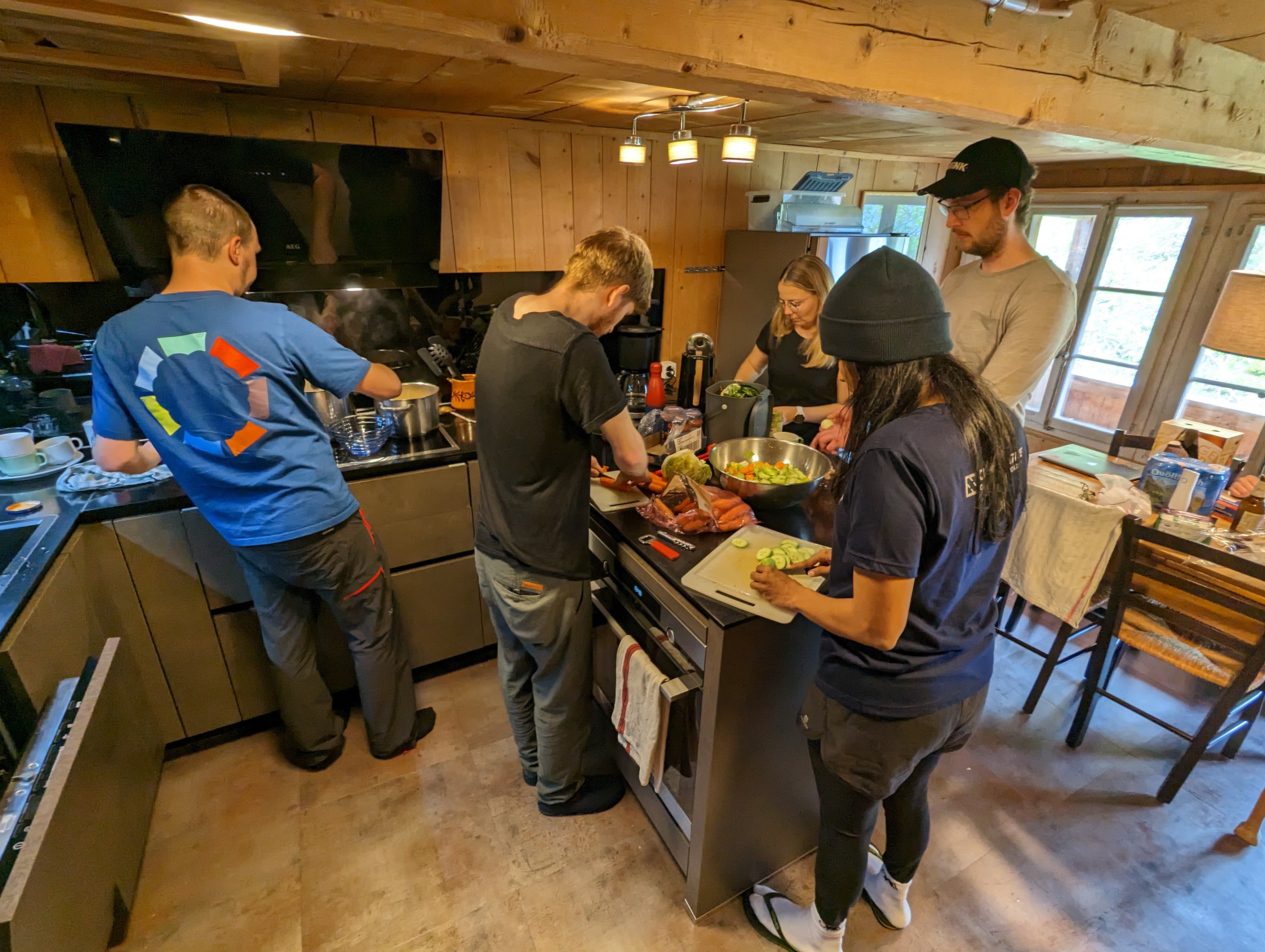 Fun and Games
Part of our retreat involved organizing leisure activities. This gave us a chance to chat, relax, and share some laughs. The weather did force us to mix up our plans a bit.
On the first afternoon, we had a blast at a rope park. For most of the team, it was their first time at such a place. After a safety run-through, we all tried out the first route together to get the hang of it. The routes had different difficulty levels, so we naturally split into groups. We had a great time cheering each other on through the tricky parts where we felt a bit unsure. It was a brilliant combo of fun, learning new skills, and for some of us, even beating our fears 😃.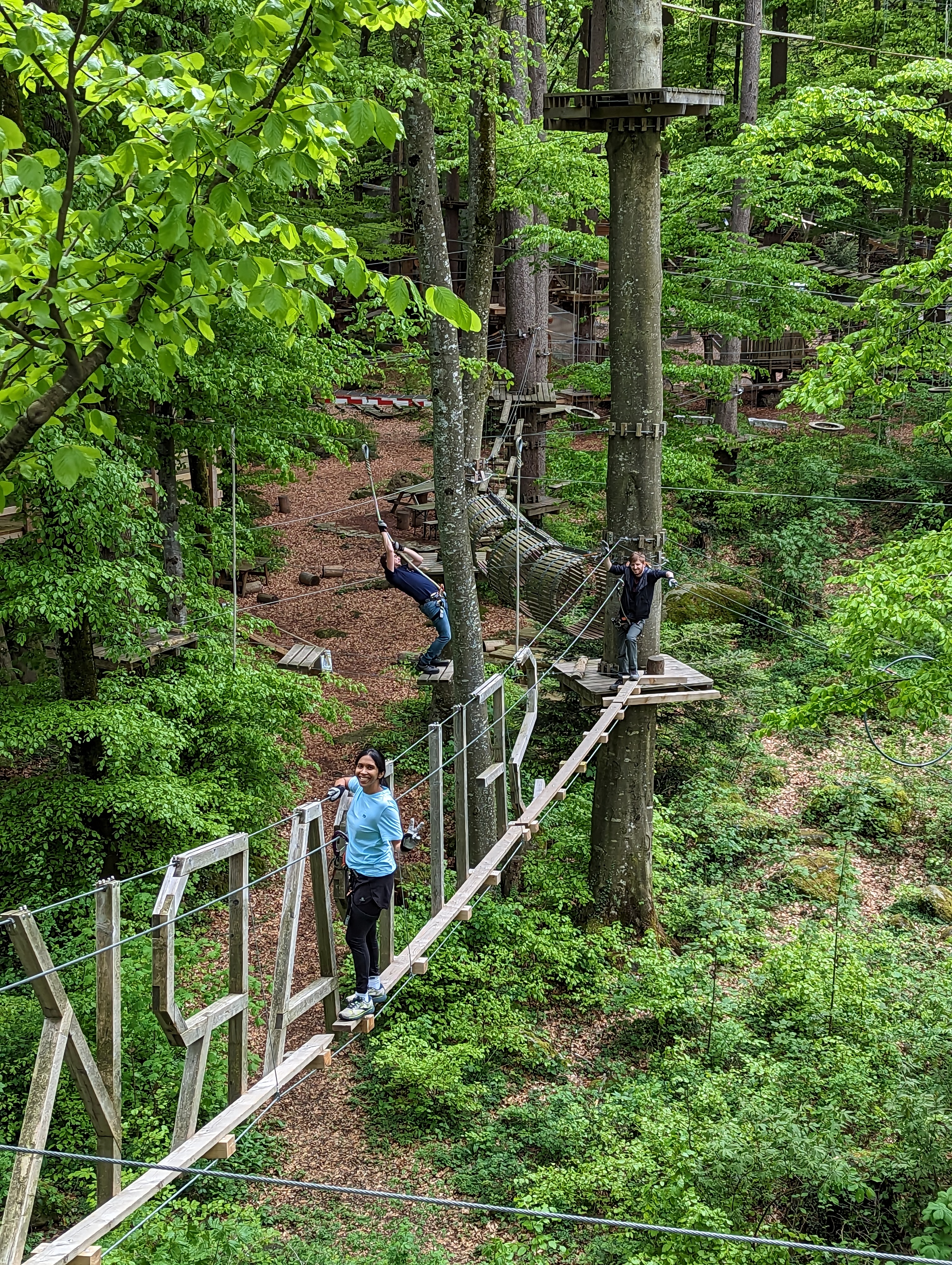 The next day, we decided on the spur of the moment to go for a two-hour hike around Habkern, taking advantage of the unexpectedly sunny weather. The freedom to do whatever we wanted without sticking to a tight schedule was refreshing. The hike gave us not only good laughs but also a chance to bond and communicate.
For the evening, we initially planned a game night with various quick games, but as the day went on, we realized we might not have time for all of them. So we chose just one game before heading out for dinner: the music guessing game. We split into pairs and took turns playing different songs, enjoying the thrill of recognizing some tunes and the challenge of figuring out the harder ones. It was fun to see how quickly (or not so quickly) we could guess the songs.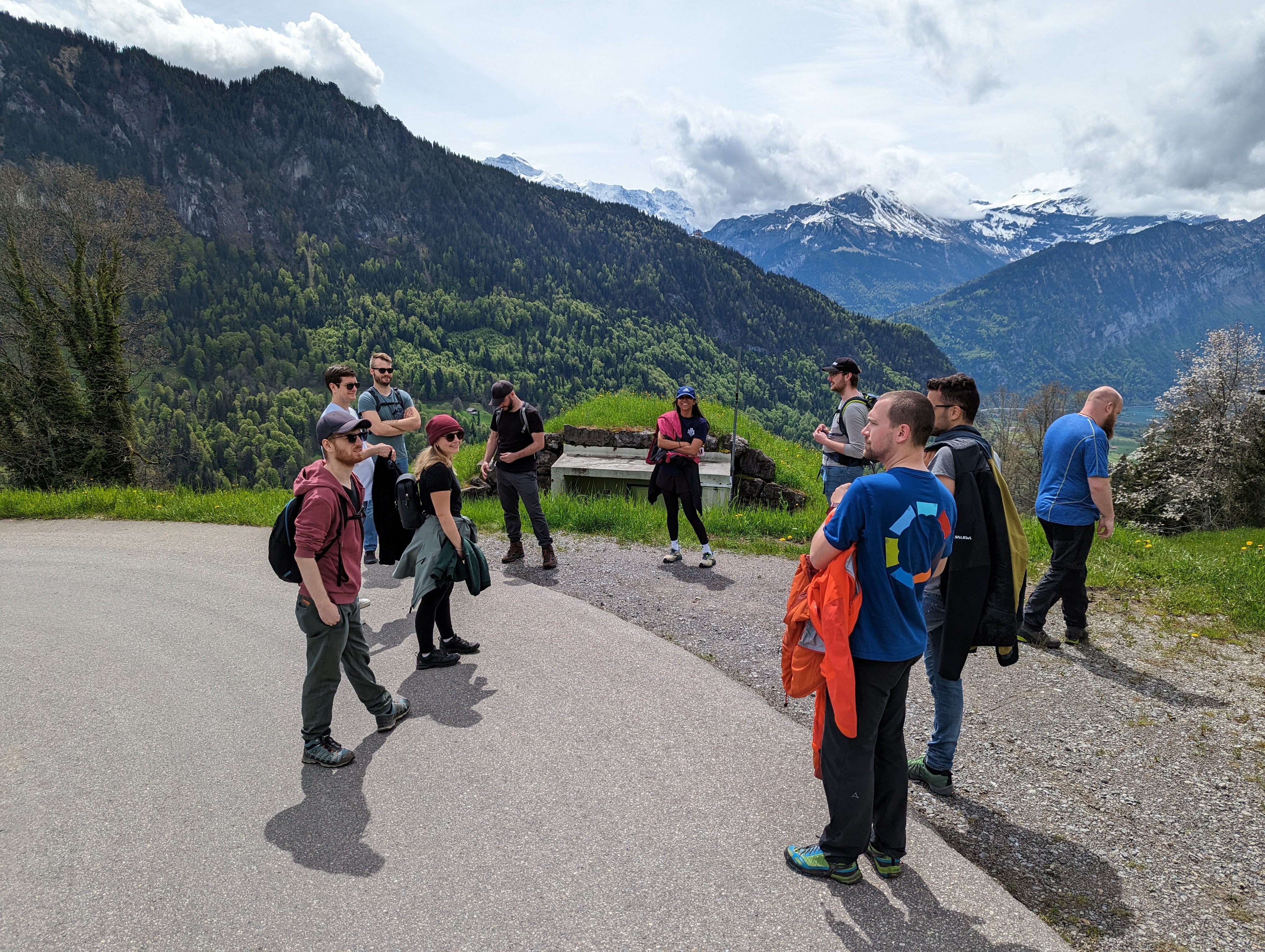 Team Development Through a Workshop
We believe everyone should have the chance to contribute to making ZITADEL an even better place to work. So, we used the retreat as an opportunity for team development. We considered various options, from hiring an external company for a workshop to using our own expertise. Largely due to time constraints (yes, we were a bit late 😀), we decided to run a workshop ourselves, using a guided platform.
If you ever need to host something on your own, we recommend Toolbox. You can filter by category, time frame, and group size to find suitable workshops. We picked the Team Self-Assessment Workshop, which was great for coming up with ideas, addressing challenges, and pinpointing areas where we needed to focus to improve our company.
In the end, it was inspiring to see how much time and effort everyone put into contributing to the discussions. Moving forward, we realized we need to set aside more time for activities like this. When you have a lot of people and opinions, discussions can take longer, and people need breaks to keep their focus sharp.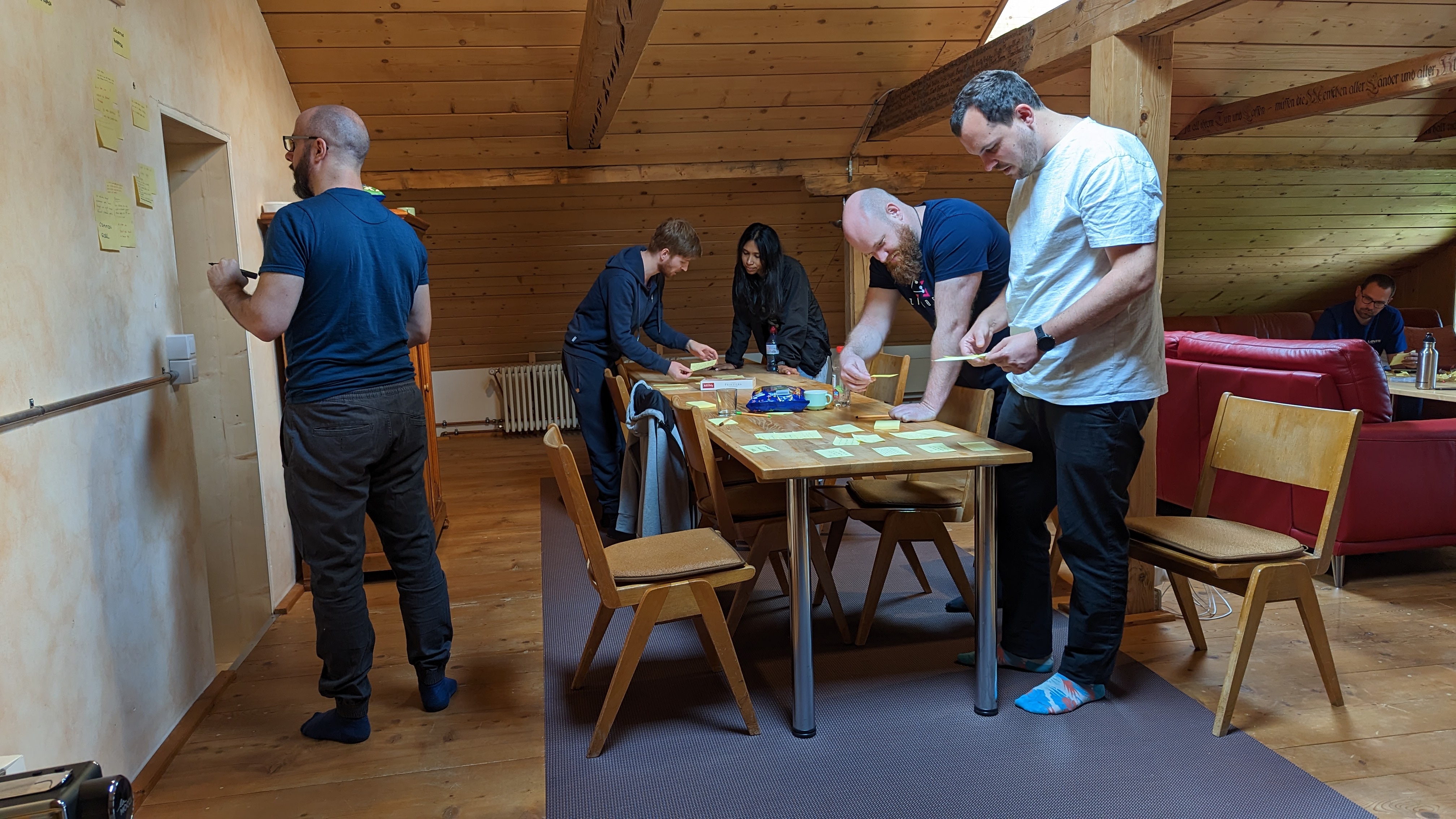 Lessons Learned
Looking back, our first retreat was a success, full of wonderful memories. Nonetheless, as with any first-time experience, we also gathered some useful insights that we'd like to share.
Time: Our retreat lasted for two full days, with extra days for arrival and departure. In the future, we think we need more time, as the event seemed to go by too quickly. More time would be especially beneficial for colleagues coming from other countries, as a short trip can be stressful. We also plan to avoid scheduling arrival and departure days on weekends, if possible.
Information Sheet: We shared important details in the company chat leading up to the retreat, but we found out that not everyone could remember everything. To solve this, we plan to create a detailed information sheet for future retreats. This will include key details like arrival/departure times, a loose schedule (excluding certain activities to keep them a surprise), items to bring, and how to get to the venue.
Transport: We used private cars for this retreat, but for the next one, we're thinking of choosing a place that's easy to reach by public transport. This would mean we wouldn't need drivers and would make travel easier for everyone.
Meal Planning and Cooking Groups: Our meal setup worked well for this retreat, as we didn't have many meals. For future retreats, though, we're considering creating cooking groups. Each group would be in charge of one meal, giving us a chance to try foods from different countries within our team.
By putting these insights into action and listening to feedback from the team, we're confident that our future retreats will be even more memorable, enjoyable, and smoothly run.
Building Upon the Success of Our First Team Retreat
To sum up, our first team retreat marked an important milestone in our journey as a remote-first company. It brought us closer, strengthened our bonds, and gave us valuable insights for future retreats. We are grateful for the opportunity to gather in person, experience thrilling adventures, and engage in meaningful conversations. As we move forward, we are excited to build upon the success of this retreat, incorporating the lessons learned and continuously refining our approach. Our commitment to fostering a supportive and inclusive team culture is unwavering, and we can't wait for the next stage of our team retreat journey. . Stay tuned for more incredible stories and shared experiences from our remote-first team.
Cheers,
The ZITADEL Team